Culinary Garlic –                                                                           as of 3/10/23 garlic is sold out till August 2023
Pounds available for $13 and half pounds available for $7. 
Variety pounds for $15 and variety half pounds for $8
6 varieties to choose from —Music out of stock for 2022
Bogatyr Hard Neck Marbled Purple Stripe Garlic: Strong and robust flavor. Great for cooking and baking
Duganski Hard Neck Purple Stripe Garlic: A stunningly beautiful garlic with amazing flavor that matches it looks and size. Purple cloves that burst with a fiery flavor and mellow out with a pleasant after taste. Lovely nutty flavor when cooked, very nice baked whole, and moderate to hot when raw.
German Red Rocambole Garlic: This is a full bodied strong and spicy garlic that sets the standard for true garlic flavor with easy to peel cloves wrapped in fawn-colored skins. Strong, spicy, and easy to peel.
Music Porcelain Garlic: White skinned with just a blush of pink, easy to peel taste is medium hot and true garlic flavor. Excellent storage. Huge cloves are wonderful in the kitchen, and perfect for production pesto-or baking whole. One of the best known and most sought after.  Large easy to peel cloves have complex mild flavor 
Phillips: Large cloves with a milder flavor than Russian Red. This garlic is an excellent keeper.
Russian Red Rocambole Garlic:  Burgundy skin, delicious strong garlic flavor with no bitter after taste.
Call 207-545-1115 to order
Seed garlic $18-pound   limited availability, order early
6 varieties to choose from —Music out of stock for 2022
Garlic Braids 
Braids start at 4 bulbs and increase in increments of 3.
Because of the fragility of the braids, they can't be shipped.
Available seasonally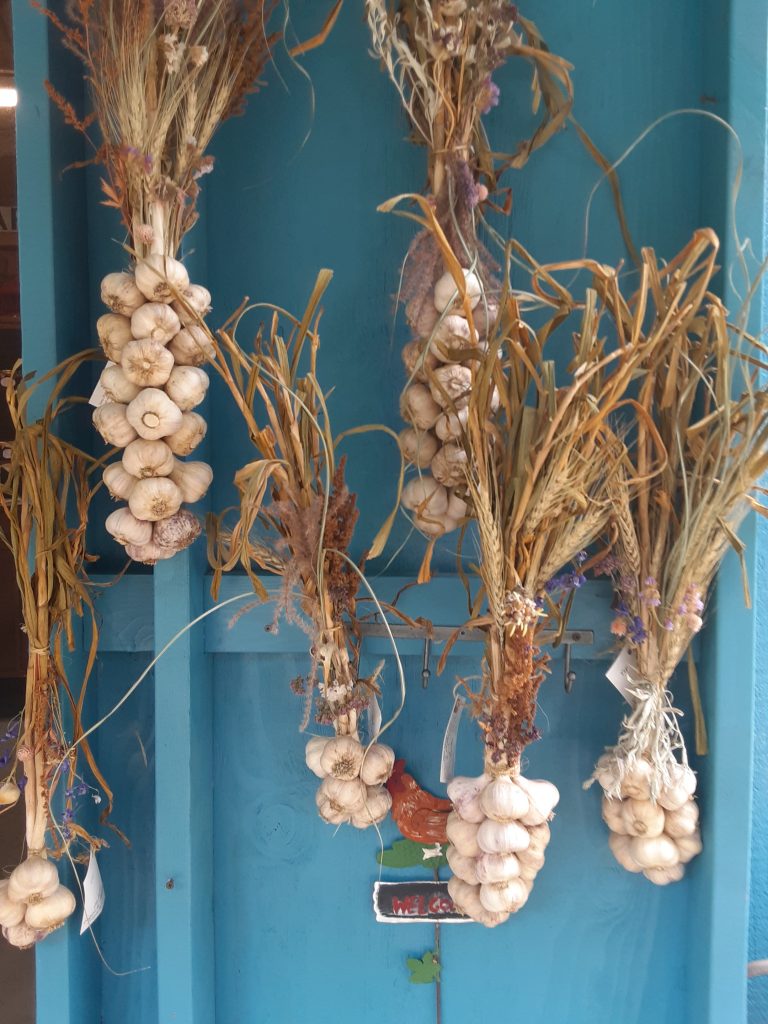 by